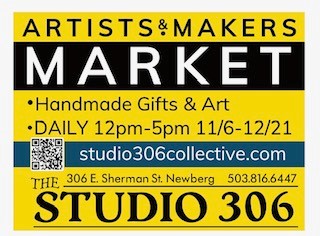 Fifteen artists and makers have banded together to create an art collective for holiday shopping. We are focusing on original, affordable and unique gifts. Small and shippable and items.
A restyled Vintage and Antique jewelry and art boutique awaits you. Items sourced from around the world, representing three centuries of cultures, for today's lifestyles. Wine Country Chic. Casual, approachable and affordable. And beautiful gardens for a respite from the hectic pace of life. Please make some time for a visit. A sip of wine, some bubbles and a chance to support Newberg's local artists.
The Studio 306 is located at 306 E. Sherman Street in Newberg.
Find Another Destination