Dia de Muertos Celebracion/Day of the Dead Celebration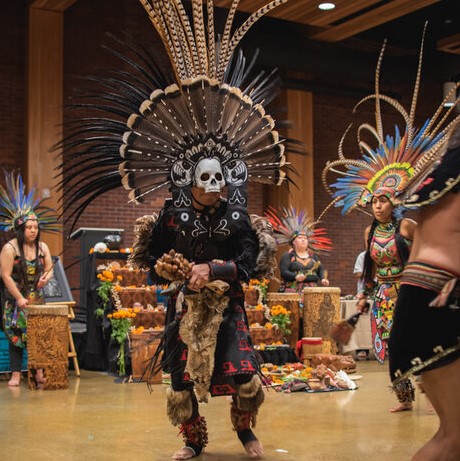 Everyone is invited to come and celebrate Dia de Muertos (Day of the Dead) with festivities at the Chehalem Cultural Center.
Day of the Dead is celebrated in central and southern Mexico at the beginning of November. While this coincides with the Catholic holiday, All Soul's & All Saint's Day, indigenous people combined this with their ancient belief of honoring their deceased loved ones. It is believed that the gates of heaven are opened at midnight on October 31, and the spirits of all angelitos (children) are allowed to reunite with their families for 24 hours. Then, the spirits of the adults come down to enjoy the festivities prepared for them.
El Día de Muertos se celebra en México a principios de noviembre. Aunque este día coincide con una fiesta católica (el día de todos los santos), los pueblos indígenas combinaron sus creencias con las creencias católicas para honrar a sus familiares y seres queridos que habían fallecido.
Una de las creencias de este día es que las puertas del cielo se abren a la media noche el 31 de octubre, y los despiertos y angelitos tienen permitido reunirse con sus familias por 24 horas. Es entonces cuando los espíritus y las almas de los adultos también vienen a celebrar y disfrutar las ofrendas que se les han dejado.
Find Another Destination