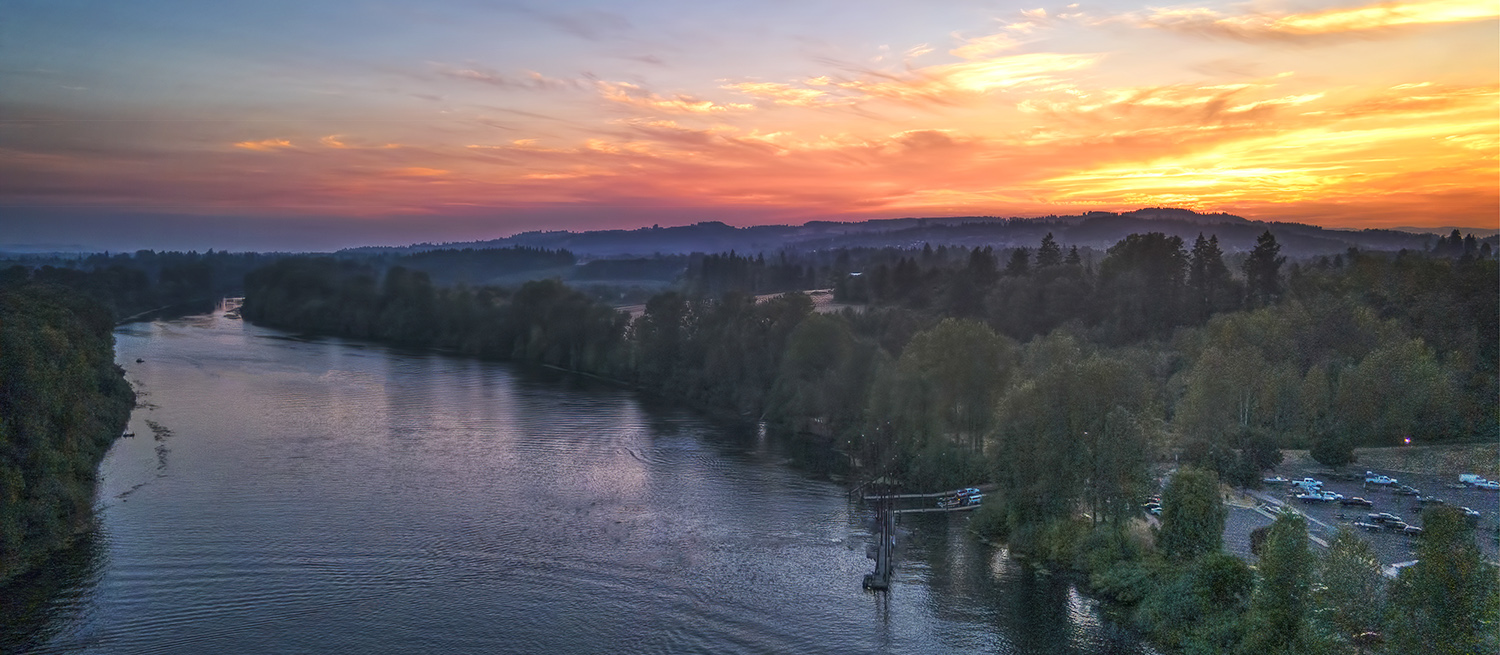 Willamette River Trail
The lifeblood of the Willamette Valley is the namesake river that runs through it. Without it, the fertile farmlands would have never attracted the generations of Native Americans, Oregon Trail emigrants, and us. The beauty is unmistakable, and the same mysteries that have been available to centuries of explorers are still here for you today. The Willamette River Trail is waiting for your exploration.
The destination is the first Yamhill County town on Oregon's Route 99W, just minutes from Portland. The famous route leads to hundreds of vineyards, wineries, acclaimed restaurants, scenic farms, orchards, and outdoor recreation opportunities on the beautiful Willamette River Trail. More than 100 wineries are located within a 10-mile radius, ranging from Oregon Pinot Noir pioneers like Adelsheim and Rex Hill wineries with bucolic estate vineyard sites to seven downtown tasting rooms, all within walking distance of one another.
Newberg's charming, walkable downtown features owner-operated restaurants, cafés, locally-owned galleries, and shops. The city is also home to George Fox University, the public arts-devoted Chehalem Cultural Center, and the Hoover-Minthorn House, the only presidential site in Oregon.
Enjoy Newberg's peaceful, picturesque surroundings through vineyard tours, river paddles, hikes, walking trails, golf, cycling, hot air balloon rides, scenic drives, or a simple picnic in one of Newberg's many parks.
The page should have the following information/sections:
·       WRT logo to link to their page
·       Before You Go
·       Water Access Permit:  https://www.oregon.gov/osmb/boater-info/Pages/AIS-FAQs.aspx
·       Rental/Guide Information:  Rental Operators to list are Dayton Kayak Rentals, https://www.facebook.com/DaytonKayakRentals/, Woodward Surf in Salem (although they don't recommend Newberg for best places to paddle), Alder Creek in Tualatin, Next Adventure in Portland.  Paddle People will deliver boats within 600 miles of Portland.  The first 100 miles is free.  Need to dig deeper for guide information.    https://willamettewatertrail.org/plan-your-trip/local-outfitters/
·       PFD information:  https://www.oregon.gov/osmb/boater-info/Pages/Life-Jackets.aspx
·       Shuttles (if any???)
·       Find your paddle route:  https://willamettewatertrail.org/itinerary-inspiration
·       Leave No Trace Principles:  https://lnt.org/why/7-principles/
·       Businesses to highlight before/after river trip