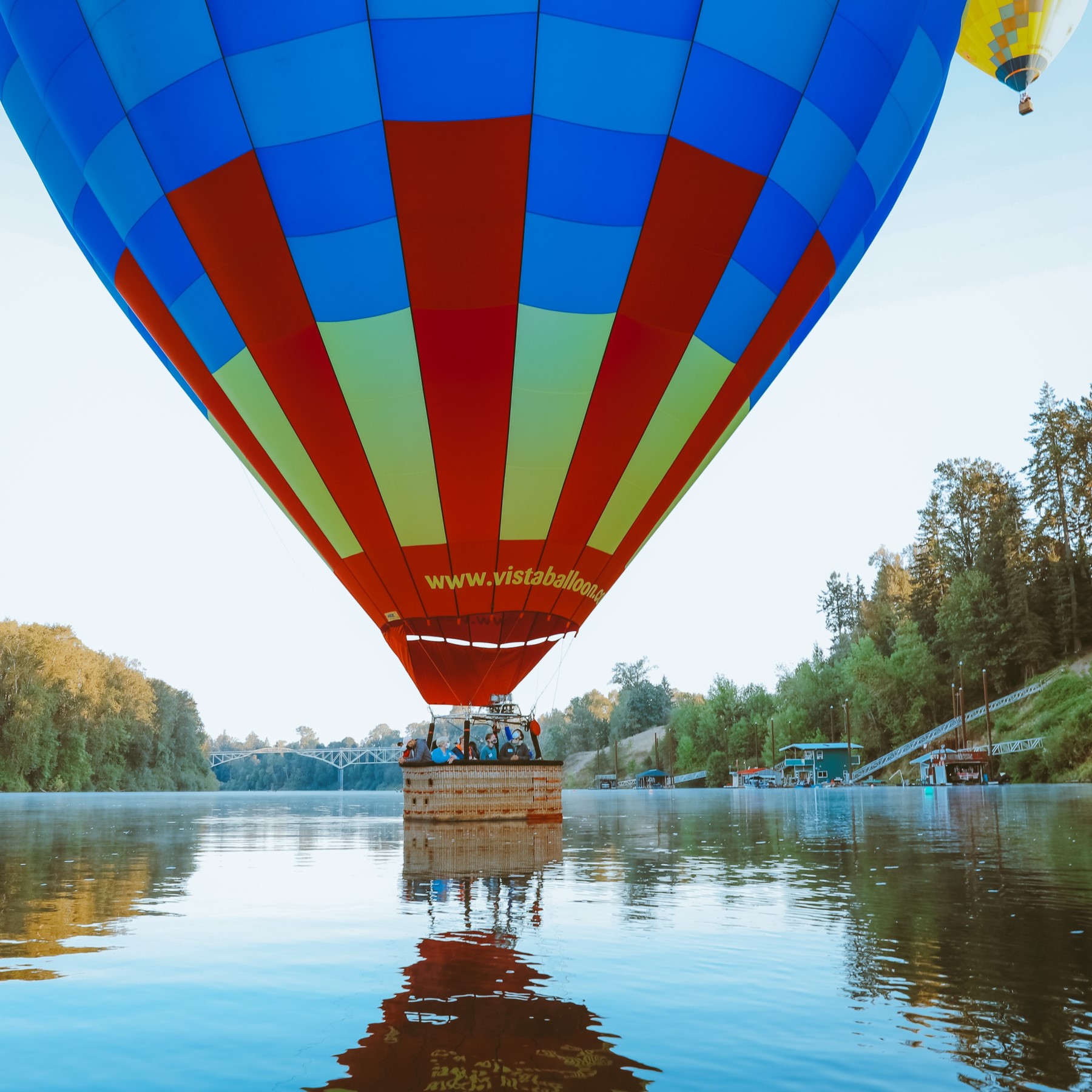 Vista Balloon Adventures is the Pacific Northwest's largest and oldest hot air balloon company, with 25 years of satisfied customers. With Vista, not only will you enjoy a view of the area's natural sights, but also the beauty of other balloons flying around you. They operate 7 FAA-certified state-of-the-art aircraft, and our FAA-licensed commercial pilots have thousands of hours of experience. The largest of their balloons can accommodate up to 12 people, and they also have a special (smaller) balloon available for those interested in a private flight for two.
The Vista Experience
Your adventure begins at dawn at their launch location in Newberg, Oregon (approx. 30 minutes from Portland) in the early morning. They start by inflating the balloon, an amazing sight in itself. Feel free to watch or join in!
After the balloons are inflated and all safety checks complete, you're ready to fly. Vista's FAA-licensed pilots will take you on an approximately one-hour flight, depending on which direction the winds are blowing on flight day. During that time, you'll see the wine making hills of the Willamette Valley, the twisting Willamette River, 10 mountain peaks on a clear day and several other balloons flying around you. It's hard to do justice to the majesty of the scene, let's just say you'll probably be impressed.
Upon landing, the ground crew will meet you to pick you up and deflate your balloon. You are very welcome to participate, however, it's completely fine if you choose to stand by and admire the process. After the balloons are deflated and put away, board the Vista van for a 15-minute ride back to the launch site where you will be served a gourmet brunch. Plan on approximately 3 hours for the whole experience.
Vista Balloon Adventures flying season is typically April through October (weather permitting).
Visit Vista Balloon Adventures website for more information and to book your tour. You can also see them on Grant's Getaways.
Find Another Destination