Cathedral Ridge Winery, Dundee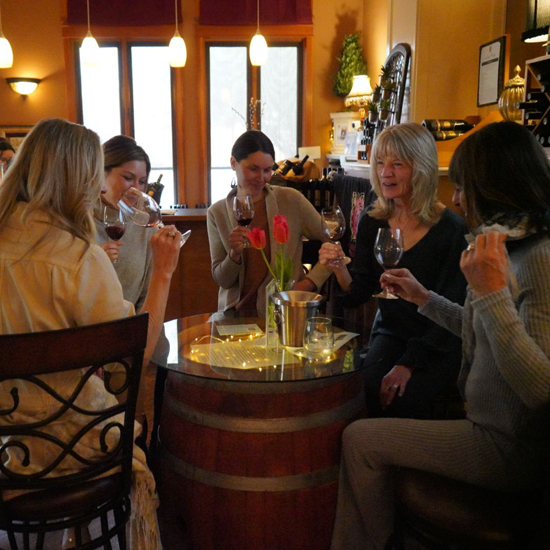 In 2011 Cathedral Ridge opened a second tasting room in the middle of The Willamette Valley. Their Dundee location is a beautiful boutique style tasting room with much to offer each of guest. Come visit and experience the Columbia Gorge Region's Big, Bold, Reds right in the heart of Pinot Noir Country. The tasting room is conveniently nestled directly off Hwy 99 making it easily accessible. Choose your flight from over 30 wines and options including Standard, Reserve, Library and Private tastings.
Enjoy a glass of wine, friends, and a picnic in the spacious outdoor courtyard. Along with the beautiful main tasting room, there is also a gorgeous private tasting room where you can have an intimate learning experience with one of Cathedral Ridge Winery's knowledgeable tasting associates. You can also book one or both of these amazing spaces for any of your private events, simply ask one of the friendly team members for details.
For 20 years, Cathedral Ridge Winery has created award-winning big, bold reds, signature blends, and delicious white wines from the Columbia Gorge and Columbia Valley regions. Their 13 local vineyard partners produce beautiful fruit and fourth-generation winemaker, Michael Sebastiani, and Cellar Master Robb Bell, handcraft the wines in limited quantities. Their wines are delightfully complex with nuanced flavors reflecting the unique qualities of the region, perfect for pairing with your favorite recipes.
Because of the incredible range of wine country microclimates, Cathedral Ridge Wines run the gamut from Pinot Noir to Zinfandel – with all from grapes grown within a 80-mile radius. Cathedral Ridge Winery uses traditional winemaking techniques, opting for small batch artisan barrel aged wines with minimal disruptions to let the quality of the grapes and the terroir of the land speak. They pride themselves on unadulterated Oregon wine that reflect a world of wine regions from Burgundy to Bordeaux and the Rhine to the Rhone. Like a talented chef with the freshest ingredients, Cathedral Ridge's winemaker takes the best grapes, from the best vineyards and by skillful blending when appropriate, creates the best wines showcasing the region.
Find Another Destination