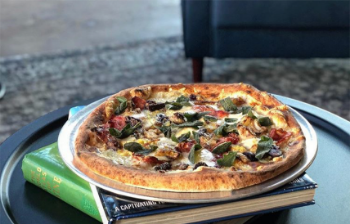 Remember those long summer nights, sun setting over the Campanian coast, when your Nonna made pizza Napoletana by hand? Yeah, neither do we. So we learned how to do it ourselves. We worked for Cathy Whims (nom, nom James Beard nom), traveled to Italy, studied, and went full on Vera Pizza Napoletana (that's as serious as it sounds).
Oven and Shaker alums, Kyle Munroe and Jeremy Whyte, have teamed up with accomplished area restaurateur, Scott Cunningham, to bring Neopolitan-style woodfired pizza to McMinnville, Oregon. Pizza Capo's menu features authentic Italian recipes inspired by the bounty of the Pacific Northwest. Pair with local, Willamette Valley wines, Oregon craft beers, and a lively, casual vibe.
Just like your Nonna didn't.
Find Another Destination