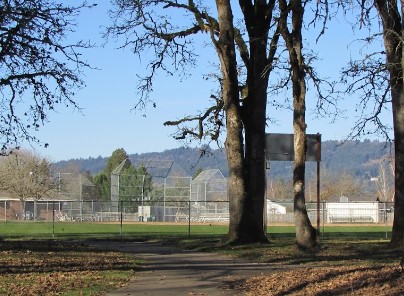 Jaquith Park is named for Walter Jaquith, a Newberg minister, and one of five original board members of the district when it was founded in June 1965.
Jaquith's work to help create new parks had actually begun in 1963.
At that time, he led a group of local civic leaders in a series of meetings to discuss how best to serve the growing recreational needs of the city.
Jaquith Park is one of the largest in the district and was added in five phases, or additions, during the years 1980-1986.
Many parents and students with ties to Newberg High athletics will remember this location as the place in the early 1980s where school softball games and tennis matches were held.
In fact, the first tennis courts constructed by the district in Newberg were built here and have been popular ever since.
In addition to tennis, Jaquith Park today offers many other amenities to the visitor, including basketball courts, a covered picnic area, horseshoe pits, playground equipment, walking and jogging trails, and softball fields.
Please note: no pets are allowed inside the ballfield complex.
Find Another Destination