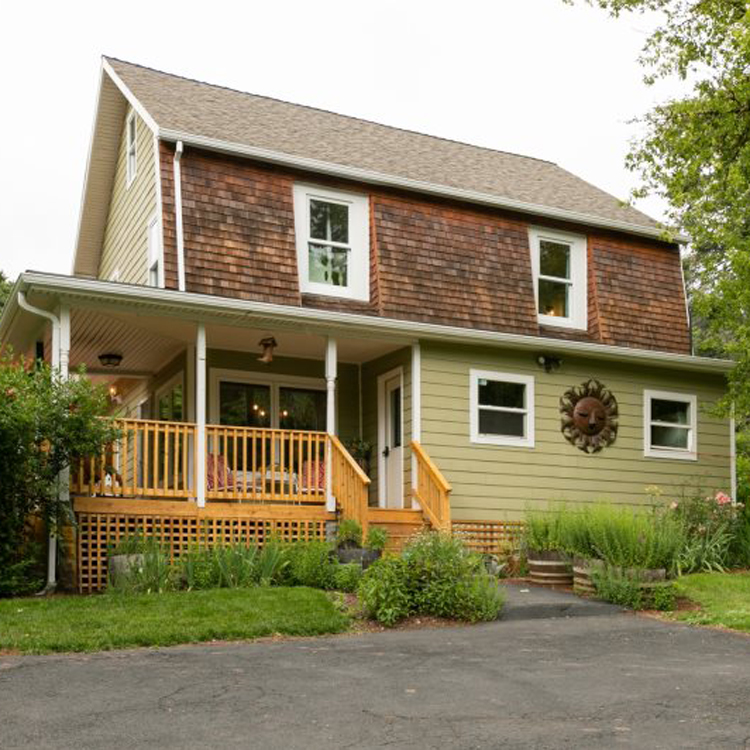 Upon arrival to Old Farm, you'll find yourself immediately embracing the fact that you have made it to wine country! Rows of 25 year old vines line the short country drive. After you pass by the original Old Red Barn the farmhouse emerges with lovely green landscaping with pathways and benches that lead to the brand new cedar deck. Outside guests can enjoy a variety of seating options, a BBQ grill, yard games, and a tennis court. It's an excellent place to enjoy the trees, flowers, and natural wildlife (mostly birds, deer, and squirrels, but you may also see a stray cat or two).
Inside the home, this lovely farmhouse has been newly updated while still maintaining the classic country charm. You'll find hardwood floors, vintage details, and the comfortable furnishings throughout this home will provide the perfect backdrop for your vacation memories. Fully equipped with everything you'll need for your wine country getaway, guests will love that the home has been enriched with luxury amenities and lavish linens. 
Complimentary internet and desk space will make any vacation planning or those must do work duties a breeze. Lifestyle Properties also provides use of Netflix, Amazon Prime, and Pandora on the SmartTVs, which are conveniently already logged in and ready to use!
The plants in the garden boxes outback and the fire pit area for guest use! Feel free to browse the fresh vegetables, herbs, and edible flowers or cozy up with some s'mores on the benches. There are also grape vines on-site and on the neighboring property. These are the homeowner's own private vineyards, please feel free to look but don't touch!
When you're ready to 'hit the hay' there are 5 bedrooms to choose from, with comfortable beds, high quality linens, and unique views of the property, neighboring vineyard, garden, and historic barn.
Find Another Destination