Media Contact: Leslie Caldwell -- leslie@visitnewberg.org -- 503-577-4587

NOVEMBER 13, 2020 UPDATE ON COVID-19 RESTRICTIONS
Today, Governor Brown announced new measures to help slow the spread of COVID-19 in Oregon. These risk reduction measures are critical in limiting the spread of COVID-19, reducing risk in communities more vulnerable to serious illness and death, and helping conserve hospital capacity so that all Oregonians can continue to have access to quality care. Together with the governors of Washington and California, a joint travel advisory is in place effective today, November 13, 2020. The advisory urges anyone entering Oregon – either residents returning from a trip, or non-residents entering Oregon on a trip – to quarantine for 14 days. It further advises Oregonians to refrain from any non-essential travel to other states or countries.
Additionally, the two-week freeze, beginning Nov. 18 and running through at least Dec. 2 includes the shutdown of restaurants, tasting rooms and bars for all on-premise indoor and outdoor consumption. The following restrictions include, but are not limited to the following:  
Limiting restaurants, tasting rooms, and bars to take-out only.
Closing indoor recreational facilities, museums, indoor entertainment activities, zoos, pools, gardens, aquariums, and outdoor entertainment activities.
Closing venues (that host or facilitate indoor or outdoor events).
Limiting social get-togethers (indoors and outdoors) to no more than six people, total, from no more than two households.
Read the full guidelines here and please note that all restaurants, bars, and tasting rooms listed on this site and below will be restricted to orders-to-go/pickup for off-premise consumption only until the shutdown is lifted. Watch this space for updates.
Welcome to Newberg in Yamhill County, Oregon.  We want you to know that we are open for business and that health and safety are of utmost importance for our visitors, residents, and employees.  As of November 13, the county is in Phase 2 COVID status. Responsible safety protocols are in place.  We welcome your visit and want you to travel safely and follow appropriate mask-wearing, physical distancing and other safety requirements.  Please call ahead to re-confirm your travel arrangements and check safety protocols. 
WILLAMETTE VALLEY COVID-19 and WILDFIRE RESOURCES
https://traveloregon.com/travel-alerts/
https://www.oregonwinecountry.org/covid-19-and-travel-alerts
https://willamettewines.com/latest-statements-covid/
RESPONSIBLE REOPENING 
We're proud to join industry partners in committing to a safer Willamette Valley.  The all-new Responsible Reopening program invites businesses to work proactively to improve safety for guests and employees alike.  Learn more about the program and find businesses that are taking part.

STATE OF OREGON INFORMATION 
Here is messaging from the State of Oregon, effective June 18, 2020.

Hello,
As we begin the process of reopening and building a safe and strong Oregon, I again ask Oregonians to come together and be smart. Reopening any part of our state comes with risk. This virus is still very dangerous, and it still poses a great threat. Please follow the safety measures we are putting in place to help these businesses reopen — we've had the best doctors and public health experts guide us on how to safely and gradually reopen Oregon. It's up to us to follow their advice if we want to keep Oregon safe and strong.
Be well, Governor Kate Brown
For more information on State of Oregon Reopening information, click here.  
TRAVEL OREGON INFORMATION 
To read a comprehensive COVID resource site for travelers, refer to Travel Oregon's resource page here.  
TASTE NEWBERG INFORMATION 
Newberg moved from Phase 1 to Phase 2, in late May.  What does this mean?  
Subject to public health guidelines, physical distancing, gathering size limits, and sanitization guidelines, this includes: recreational sports; pools; venues like movie theaters, bowling alleys, and arcades; some additional in-office work; bars and restaurants able to stay open until midnight; social, civic, and faith-based gatherings can meet in larger, physically-distanced groups. Each establishment will have their own approach, taking into account its staff, room layout, and other factors. Most will require reservations. We strongly encourage you to call ahead to get that location's specific rules. A little planning and a little flexibility will make for a fantastic Newberg experience.
To visitors who are based in Oregon counties that have not yet entered Phase 2, we ask that you respect that your community is in Phase 1 and that you follow Phase 1 guidelines when visiting Yamhill County.
To our valued visitors who have plans to travel to the Newberg area from other states, we ask that you wait until non-essential travel is declared safe throughout all Oregon counties—trusting that we look forward to welcoming you when responsible tourism is once again possible.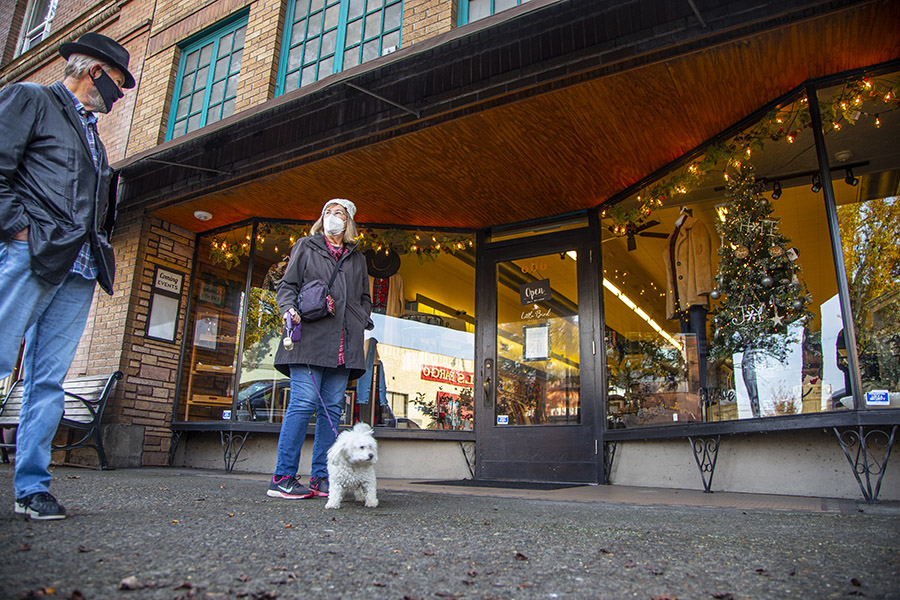 Lodging
As of June 4, the following hotels are open and welcoming guests:

Holiday Inn Express Newberg - Wine Country
Travelodge Suites by Wyndham Newberg
For vacation rentals or bed/breakfast inns, please reference the following websites:
www.airbnb.com/s/Newberg--OR
www.vrbo.com/search/keywords:newberg-or-usa
www.obbg.org/Newberg-oregon-bed-breakfast.html


Dining
Under the Governor's Phase 2 Plan, most of Newberg's restaurants are open to the dining public for limited service. In addition, many are offering takeout, delivery, and/or curbside options. Before going, call the restaurant to find out their specific details. Many are requiring reservations.

Click below for lists of restaurants that are open for limited service, take-out, and/or delivery:
https://www.yamhillcountylive.com/newberg-restaurants
https://www.chehalemvalley.org/local-food-delivery-takeout-services/


Wineries, Breweries, and Distillery
Under the Governor's Phase 2 plan, a majority of Newberg's wineries, breweries, distillery, and tasting rooms are open to the public for limited service. In addition, many are offering specials, curbside pickup, shipping incentives, and local delivery. Be advised that many are requiring reservations, mask-wearing is required while not seated, group size is limited to 10, 6' physical distancing is required.  Before going, call the establishment to find out the specific details for their location.

Check out the many offers and deals HERE.

Our list of OPEN, Newberg-area, wineries -- subject to change without notice. Every winery has different procedures in place related to COVID-19. Please call ahead for their specific hours, appointment procedures, and COVID rules.

Wineries
The Chehalem Valley Chamber of Commerce has assembled lists of essential open businesses. Click the link below to leave this website and see the Chamber's lists.